My name is Gerald Lee (Jerry) Matthes. I was born at 4:50am on 24 December 1941 in a brick house across the street (west) from the southwest corner of the Public Park in Breckenridge, Missouri. The red brick house is on the corner, north of Main Street, on the west side of North Fifth Street.
I (Jerry) was the third child of four children born to Herman William Matthes and Beulah Constance (Ward) Matthes. Jerry joined older siblings, Marilyn Judith (Judy) Matthes (born 02 March 1940) and William Parnell (Bill) Matthes (born 07 August 1937). The family was completed on 30 December 1945 with the arrival of Derryl Gene Matthes. All three of the boys were born in the brick house described above. Judy was born in a hospital in Kansas City, Missouri.
Herman was born on a farm, three miles south of Laclede, Missouri on 08 June 1913. Beulah was born near Milan, Missouri on 17 May 1913. Herman was the only son of William Frank Matthes (born ~1885 in Mt. Auburn, Illinois) and Augusta Mae (Eichman) Matthes, (born August, 1888). Beulah was born to Mr. & Mrs. Charles Edward Ward. Charles was born the son of John Ogle and Martha Ogle, however, Charles was raised by Nancy Ellen Bunch and her husband, James M. Ward of Osceola, Missouri. Although Charles apparently was never formally adopted by the Wards, he assumed the last name of Ward as he grew up in their home. Charles' wife, (Beulah's mother) was the former Ivil Belle Morris from the Sullivan community near Milan, Missouri. Ivil later married Kenneth Dearing, so as I was growing up, my grandparents were Grandma and Grandpa Matthes of Laclede, Missouri and Grandma and Grandpa Dearing of Chillicothe, Missouri.
Herman had two sisters, Viola and Leona. I remember many family gatherings in Laclede for Thanksgiving or Christmas of this core family. The Matthes Grandparents had moved from the farm to Laclede, where Granddad Matthes had purchased the Laclede, Missouri telephone system. There were also several expanded Matthes family reunions. These were usually at Pershing State Park or at one of the Wildlife Refuges (Swan Lake or Fountain Grove). Many relatives gathered for these. They came from Missouri, Illinois, Kansas, California, and possibly, Florida.
Herman helped maintain the telephone system in Laclede and was instrumental in expanding the customer subscription base. Herman attended Central Methodist College in Fayette, Missouri after high school graduation. When Granddad Matthes purchased the telephone system at Concordia, Missouri, Herman was employed as its manager. Herman purchased the Breckenridge Telephone company in about 1935. Herman and Beulah were married on 01 January 1936 in Warrensburg, Missouri. Herman continued to manage the Concordia Telephone company for several months until it was sold. Finally, Breckenridge became the permanent home for the Matthes family that grew to include four children.
We traveled in a 1938 Chevrolet. Our first new car was a 1949 Chevrolet. Then it seems that we traded backwards to a 1947 Chevrolet. Later we had a 1951 Pontiac. We often drove the 1929 Model A Ford pick-up that was there when I was born and it was there when I left Breckenridge. I used to start it up and practice letting out the clutch. This was done in the alley between our brick house and Mrs. Catron's house to the north. Then came the 1954, maize-yellow Pontiac (our second new car). But again, it seems we traded backwards to a blue 1953 Pontiac. This was the car that Judy drove me to Gallatin, Missouri in, where I took and passed my driver's test on my 16th birthday, 24 December 1957. I proudly drove Judy, and the blue 1953 Pontiac back to Breckenridge. This was the family car until dad traded it for a 1957 Cadillac Fleetwood.
My childhood was from a bygone day when a child could roam the streets of Breckenridge and parents would not worry about them. I remember when an older kid asked me how old I was and I held up four fingers. That happened at "the public well" at the northeast corner of the public park. About the same time, an elderly gentleman named Mike Scanlon would stop me on the street and ask me if I was a "good Democrat". If I said "yes", he would give me a new penny, pat me on top of my head and laughingly say, "That's the spirit". We were all proud democrats in those days. We were proud of our favorite son, President Harry Truman and his decisiveness in ending the war with Japan.
Then I learned that I could go along the streets that bordered the public park and find a couple soda pop bottles. These could be taken to the public well and washed, then Willard Ralston would pay me two cents each for the deposit that had been paid. With the penny Mike Scanlon gave me plus the four cents from the bottle deposits, I had a nickel to put in my pocket! It didn't take long for me to realize that I could take five soda pop bottles to Willard Ralston's store and come out with a dime in my pocket. Instead of being a Democrat who was dependent on handouts, I became a self-reliant Republican!
I scoured the ditches of Breckenridge and raised enough soda pop bottle money to put a Halloween mask on lay-away at the dry goods store operated by Mrs. McConnell. She was the wife of the shoe cobbler who had a store next door. I got the mask paid in full (probably less than three dollars) just before Halloween and really felt like I had accomplished something special.
Those years have memories of visits by Dad and Mom's friends. Frequent visitors included Marguerite Hogsett/Chaffin, the daughter of Riva (Hogsett) Chaffin and stepfather, Joe Chaffin. Marguerite was younger than mom. Mom enjoyed her company and seeing her mature.
Usually in the summertime, a 1930s sedan would stop in front of our house and Grandma and Grandpa Dearing would emerge. Grandpa had a vending machine route that he serviced, so there was usually a box of peanuts sitting in the backseat floorboards. We kids could usually get by with a fistful of peanuts each. That was a real treat, so we always enjoyed seeing their car coming. Later, in Chillicothe, I remember Grandpa inviting me to go with him as he made his rounds to several neighbors' houses to service their furnaces/boilers. These homes had hot water heating systems that operated from a basement furnace/boiler. Grandpa told me how he had a maintenance agreement with each homeowner. He received maybe $45.00 per month from each to keep the soot from clogging the hot air pipes that heated the water for the radiators throughout each house. He would visit each house about once a week to make sure the system was functioning properly. The evenings that I went with Grandpa, we walked to each of the houses. It was a good chance to talk to him and to see how "enterprising" he was. Grandpa Dearing also worked a night shift as a desk clerk at the Leaper Hotel. Grandma and Grandpa Dearing had a dog named Gigs. Gigs was like a family member.
Other frequent visitors were Doctor Underwood and his wife, Maxine. My memories are that these two people dearly loved my parents and especially the four of us kids. I believe Doctor Underwood was the Doctor-in-charge of Derryl's birth. I remember how (at about 4 years old) I would try to run past Maxine while she was sitting in one of our kitchen chairs. Maxine would suddenly lean forward and cut me off, scooping me up to an embrace that would usually result in me laughing while she "got my gilligoller".
Not all their visits were so pleasant for me, though. One time I was limping due to a badly infected blister that had developed on the back of my ankle. Doctor Underwood recognized that this needed to be "lanced" and disinfected. He brought in his bag of tools and medicine, gathered Dad, Mom, and Maxine to hold me down...and (after sterilizing the knife with a match) proceeded to cut open the infected area. I remember kicking and fighting for all I was worth, but after a brief, sharp pain, it was over and all four of them consoled me with the realization that I was now on my way to healing instead of getting worse. That was a real learning experience for me. I remember comparing how I felt before and after the lancing. I remembered how I did, in fact, heal after the lancing. I tried to remember that lesson every time I had to get a shot, or when it was time to take my "cod-liver oil"! I always had faith that Mom and Dad would not insist that something like this be done, unless I would be better-off in the long run.
My Mom and Dad spoke often to each of us kids about the value of a good education. I also remember both sets of grandparents reinforcing this value. I studied hard all through school. My older siblings (Judy and Bill) helped me keep focused on the present grade by warning me that the next grade would be really hard to understand if I did not stay focused on the present schooling. I took it one grade at a time, but my sister and brother helped me more than they probably realize. Mom helped me with spelling, arithmetic, and English. She had studied what I recall her describing as "the Palmer Method" of writing. Using a lined page of tablet paper, she showed me how she was trained to start between the top two lines, near the left side of the page, and draw a series of circles from the left side of the page all the way to the right side of the page. The circles were a continuous motion that looked like a "slinky" on its side when finished. This taught her coordination that together with other teachings, resulted in her having a truly beautiful "scribe".
My school teachers from the fall of 1948 through the spring of 1960, were Genevieve Salisbury (1st grade), Mrs. Fair and later Miss Andrews (2nd grade), Pansy Hall (3rd and 5th grade), Mrs. Sylvia Eveleth (4th, 6th, and 8th grades), and several teachers for 7th, 9th, 10th, 11th, and 12th grades. All these people were truly dedicated to teaching. I still often recall the many principles that were stressed by these fine people. Mrs. Eveleth and Mrs. Hall had instilled an appreciation for English, history, social studies, mathematics, and science classes that was later augmented by Mrs. Barron, Mr. and Mrs. Welch, Mr. Vineyard, and Mr. Edwards. Music was encouraged. We all had the opportunity to participate in vocal groups and band (Mrs. White, Mr. Saun, Mr. Shrader, and Miss Chambers). Athletics for me was primarily football. I enjoyed nearly every minute of football! Junior high was sixth, seventh, and eighth grades and varsity was 9th through 12th. Our coaches were Ron VanRyswyk, (who also taught industrial arts classes), Bill McGuire (who was also Superintendent), Bob Wilson, and Jim Phillips.
I graduated from Breckenridge High School on 18 May 1960. That fall, I began classes at Central Methodist College in Fayette, Missouri and graduated from college at the University of Central Missouri in Warrensburg. I am now retired in Tucson, Arizona with my wife, Peggy, after we spent more than forty years in the aero-space and defense industries. We have two children and two grandchildren, all in California.
Although I have resided away from Breckenridge since 1960, I have been an almost continuous subscriber to The Breckenridge Bulletin and its successor publications (currently the Caldwell County News). Many of my Breckenridge friends and classmates are now deceased, however, I'm sure the memories of our upbringing in Caldwell County, if not Breckenridge, are a treasure to each of us.
THE COMMUNITY OF BRECKENRIDGE MISSOURI 1937 THRU 1956.......By Bill "Toff" Matthes
This is a part of the history of Breckenridge and the people in it from around 1937 to 1957. I loved the People of Breckenridge. They were fun loving, honest, good American Citizens, that believed in God, discipline and our country. The love I have for the people and the community as I lived it from 1937 through 1957.
I was born in the two story, red brick house located across the street from the southwest corner of the city park in August, 1937. I was the oldest of four children born to Herman and Beulah Matthes. Second born was my sister, Judy and third and fourth, respectively, Jerry and Derryl.
The story begins with the telephone company. My dad, Herman, came to Breckenridge in 1934 and married my mom, Beulah. They acquired the telephone company from my grandfather, William Frank Matthes of Laclede, Missouri. The telephone system was something called a Magneto System. It operated with two 1 1/2 volt Columbia Grey Label Dry Cell Batteries. Housed in the base of the phone, if you wanted to place a call it was necessary to turn or crank a small handle on the side of the telephone which sent a current to the telephone office. This caused a piece of brass like a bottle cap to fall down about an inch on the switchboard. This allowed the operator to see where the call was coming from. The operator then would insert a brass plug into a hole under that brass drop and an electrical connection between the operator and you. This let you talk. All of this, of course, was transmitted over lines from your house to the operator. The operator said, "Hello" or "Number Please". You spoke into a mouth piece, which carried the sound waves to the operator and you heard her through a receiver that converted sound in your ear. The operator at the switchboard had many responsibilities. In that day, everybody used the telephone to report fires. If a fire was reported the operator had a plastic toggle switch mounted up high on the left side of the switchboard. He/she would flip the switch to on and it would cause a fire whistle, mounted on a downtown building, to blow loud, getting the attention of the whole town. The Fire Chief would then call in and see where he had to take the fire truck. In those days the truck had a tank full of water, as there weren't any fire hydrants then. Also, the operator was used to locate people in town. If you were looking for Truman Pond, who ran the Hardware store, you might call the operator and ask the operator where Truman Pond was. Nine times out of ten, she could tell you. The operator knew, most of the time, where these people were because they had called in to her to place a call. Almost all of the businesses in town had a phone. Some of them were Cudgy Glick's gas station, Mary Chaffin, Post Office, Lit Place's grocery store and, Willard Ralston's grocery store, Lawrence and Grace Martin's Car Repair/Maintenance Shop, Joe and Riva Chaffin Wool Store, Nick Trosper's Egg and Chicken Store, Billy Fair's Variety Store, Bill Sage's Breckenridge Bulletin Office, Frank Pond's Hardware, Nick Nichol's Shop, Harry Myers liquor store. There were many, many more, including farmers. They were business people too. The telephone system went out to the Leo McKee's, the Bennetts (Lefty, Jo and the boys) Greenwoods, Bells, Guffys, Henrys, Sam Curnows, John Patricks, Fred Newmans, and Martin Pitmans. Each family that had a phone had a number of rings assigned to them and when they heard their ring, they would answer their phone. The trouble was, they could count everyone's ring pattern and if they wanted to listen in on their neighbor's conversations, all they had to do was lift their receiver to their ear and listen.
The telephone system was used during the Second World War. We practiced what was called "Air Raid Practice" after dark. The people in their homes and businesses, hearing the fire whistle sound at the telephone switchboard would turn out their lights, pull the shades down and the siren would sound 2 or 3 minutes, which seemed like eternity when you were a small child. This was done to keep overhead planes from seeing our town. In those days kids roamed all over town and there wasn't any danger of them getting lost because someone would call their mom and tell them their kid was in our back yard. I remember one Saturday morning; it was my job to burn the trash on what we called the junk pile located out by our barn in the back yard. I dumped the trash and lit the papers with a wooden match. As I watched the fire, I noticed the papers floating up onto the roof of the wood shingles of the barn. They began to smoke and it was way too high for me to get up there. I went running into the house, up the steps and burst into the telephone office where my Mom was running the switchboard. I said, "Mom the barn is on fire". She looked up at the plastic fire whistle switch and in a flash she had the siren going. You could hear it all over town. In a minute my Dad, Herman, called in to the switchboard and asked Mom where the fire was and she said, "Your barn is burning down". Well Dad was the Fire Chief at that time, so he grabbed someone off the street and they went and got the old fire truck and here they came right down the alley to our barn. They hooked up the hoses, revved up the truck motor and pulled the switch to transfer the water from the tank to the hose and in a few minutes they had the fire out. I got a few mean looks, but since I didn't get hurt and I was doing my job, Dad didn't take the board to my butt. My dad, Herman Matthes, sold the telephone system to the Green Hills Corporation in about 1951. A new dial telephone system was born. My dad then went to work for them installing the new dial telephone system.
I began grade school in about 1943 under Mrs. Pansey Hall. I loved Breckenridge and almost everything about it. As I grew older, I wanted to have a nickel to spend so I got a paper route throwing the Kansas City Star and the St. Joe Gazette. The papers were thrown off a truck around 3:30 A.M. each morning. They left me anywhere from 70 to about 109 papers during the time I had this paper route. I would start folding the papers into a star configuration so they would sail straight and a long ways. On Sundays there were 113 pages in the Kansas City Star and that meant we had to walk up to the door, tree, window, and various other places and lay them down. That took a lot more time, but I tried not to complain. I don't believe I ever broke a window. I did startle lots of dogs and they would bark and I'd wonder if the dog woke anyone up. It wasn't a lot of money, but I always had a dime in my pocket.
I loved the people in Breckenridge. They were good to me. I remember going to the grocery store, one block from our house. Lit Place owned it. I'd get the groceries (stuff) and the checkout person would write our name (Matthes) on the ticket. My Dad would come into the store and pay the bill once a month. That's called credit, folks . . . ha. I'd run all the way home with the stuff, so Mom could get dinner started. I was always hungry. Later on I mowed a lot of yards in Breckenridge to make spending money for Saturday night. The show was a dime, popcorn a nickel. Sometimes we'd take in a brown paper sack full of corn we made at home before the show. I learned to save some money. I remember buying my first box of 22 caliber rifle bullets. They were called shorts, longs, or long rifles. One day I asked Billy Fair of Fair's Variety Store, if he would sell me a box of 22 shorts on the lay-a-way plan. He said, "Sure", and picked out a new shiny box full and put them up there on the top shelf. He turned around and said, "Now, Billy, when you get all that money saved up, those bullets will be right there waiting for you." I remember they cost 39 cents. They had candies, too. My favorite was those Root Beer Barrels. He confronted my dad, of course, to be sure it was OK, but I didn't know it. Ha.
After that period of time, around the 8th grade, we had a Championship Football Team. It was the only time we won the Conference. Stub Looney and Jimmy Logston were seniors that year and I idolized both of them. I always wanted to be just like them, but of course, I wasn't fast enough. I did manage to be the first football player to letter all 4 years at Breckenridge. My senior year I won the CRC Mile and Half Mile races. Sports were big in our family.
A great bunch of people inspired me to be the person I am today. I remember going to the Post Office and Mary Chaffin, Post Mistress, would always say, "Hello Billy," then I was on to school where Burley Hicks would greet us at the door with, "Hello Kid." Truman Pond at the Hardware Store and Russell Milby at the other grocery store probably influenced my life a lot. Also, there were many other business men that were my friends. Truman Pond ran the Hardware Store. Bill Sage ran the local paper (The Breckenridge Bulletin) and was my Scout Master. Joe Chaffin harvested wool, and I used to go there and train for boxing on the heavy and speed punching bags after school. Mary Chaffin ran the Post Office. The Cashatts, the Newhouses, the Greenwoods, Leo, Thelma, Janice, and Lyle McKee were like my own family. The Guffys, Bill Allen and Bob, the Reeds, the Kelleys, the Bennetts, the Polsons, We worked together putting up hay and everyone's gentleman "Hello Kid", Burley Hicks greeted us at the Bulldog High School door in the mornings. He'd have the furnace cranked up and we'd huddle around it in the basement to warm our feet after walking to school in the snow. What a guy. Everyone loved him. He was a class act. I remember this one farmer lived out east of town (Jim Shipley), was coming to town to vote about 6:30 A.M. I was on a motor scooter delivering papers about 6:30 A.M. When I hit a patch of gravel and the scooter landed on top of me and skinned my knee clear to the bone. Big Jim was setting at the intersection, where the Coop Service Station is now, November 2011, and he saw it all. I hit hard enough that it knocked me out. He picked me up and took me to a doctor's home in the south end of Breckenridge. We called that doctor "Strawberry" because he had a huge nose that looked just like a strawberry. I woke up on his divan and he was sitting right beside me dressing my wounds. In a little while I was good to go. I don't think I ever thanked Mr. Shipley, but I told his son, Bill, about it this year.
If you grew up in Breckenridge, you had a store, performed a service or ran a farm and of course you might work at a factory out of town. That was the economy of the area. One thing though, everybody had a nickname, almost from the time you were born. There were some that I never knew their real names. Some were famous, others were hard to say, but everyone had one. I want to thank Jerry Matthes, no nickname and Keith Moorshead (Cotton) for providing some of these names. I was nicknamed after a Little League Baseball Coach, whose name was Bill Toffelmire. I started out Toffelmire, then Toffy and finally (Toff). Bill coached the Little League Baseball Team. I was the bat boy. Bill was a huge man and I was too. . ha. One of my friends, Marvin Hicks was (Button Eater), later just (Eater). He could eat more than 3 big men at any setting. Ha. When he was very little, he swallowed an overall button and thus Button Eater. His Dad was just (Burley), Bobby and Fred Hicks didn't know if they had a nickname or not. There are probably hundreds. I will just list some here, but not enough paper to do justice. Billy (8 Ball), Derryl (Nig), Nichols, Keith (Cotton) Moorshead, Johnson (Frog) Nichols, Robert (Stooge) Robbins, Gene (Churn) Gilgour, Eugene (Wimpy) Clark, Harold (Fuzzy) Bowers, Dean (Doc) Townsend, Leon (Weasel) Townsend, Tommy (Cruiser) Crews, Margarett (Pigsett) Hogsett, R. Lee (Honk) James, Dorland (Herbie) Burton, James (Clyde) Gilgour, Billy (Sunkis) Hall. I graduated from Breckenridge High School in 1956. I just want to say there is not enough room to write about all my friends in Breckenridge. They were all great to me.
While I was in High School, Dad sold the telephone company to the Green Hills Corporation. He went to work for them installing the new dial system. I went to work for Green Hills Telephone Company and we installed phones and built lines all over. We installed phones in the Tina, Ludlow and Dawn areas. My job ended with Green Hills my senior year of school, when I fell off a pole west of Ludlow on a gravel road. After that, I went to Kansas City, Missouri, and tried my luck at the Kellogg Switchboard Company, where I learned to solder connections in the rear of the telephone switchboards. I also did a short hitch on the assembly line at the Leeds Chevrolet Plant in Kansas City, Missouri.
In 1957, I joined the Air Force at Kansas City, Missouri. I left Breckenridge in a big Trailways bus. I rode a long train with lots of recruits to San Antonio, Texas. We got off at Lackland, AFB, and Texas for Basic Training. I spent 4 weeks there, and then I went to Biloxi, Mississippi, for Electronics Training and studied long range early warning radars. After a little over a year there, I was transferred to Virginia in The Blue Ridge Mountains, just outside of Washington, D.C. In 1959, I was transferred to Kirksville, Missouri to a radar site. My dad had major medical problems and that got me closer to home to help with the family.
I met Ruth Anne Proctor in Braymer, Missouri. After I was discharged in 1960, we got married. I joined the weather service in Kansas City, Missouri in 1961. After a short 4 weeks of training on a Radio theodolite Weather Balloon Tracking Device, we drove to Dodge City, Kansas where my first duty station was at the airport. We stayed there 2 years and transferred to Lincoln, Nebraska where the Weather Service took over all the weather equipment from the SAC Air Command B-47 Base there. We acquired their equipment and merged it with ours. We also set up a new office at the airport. I installed all of our equipment and theirs into a working system for the operators who came along later.
While we were in Lincoln, two boys were born, named Tal and Matt. At that time I was repairing all kinds of weather equipment located at Norfolk, Grand Island, Lincoln and Concordia, Kansas. I called it "putting out fires." The offices would call and say there was equipment broken and I would jump into a Ford Station Wagon, loaded with test equipment. Go to the site and repair it. I did this for six years and then was transferred to Concordia, Kansas to live and take over the maintenance program there.
I retired from the weather service in 1995 and dis-assembled the equipment at the Concordia Weather office located at the airport. The equipment included the AFOS Computer System and our Digital Radar System plus many instruments, standby power plant... We shipped the radar to a private company in California; locked the doors and retired.
My sons went on to work in Kansas City, Missouri and Tribune, Kansas. My wife hung in there with me for 50 years, and as of the last day of December this year, 2011, we will celebrate our 50th Wedding Anniversary. Although we maintain a home here in Concordia, Kansas, I call Breckenridge, Missouri my home. The love I find myself looking back to many parts of my life in Breckenridge ....Living in a small town like Breckenridge has made me a better person in many ways. I've always wished my kids could have had the same experiences.The small classes and the way we dressed in Class Pictures and showed a likeness and friendship we had for each other...So I Say: 1956 graduates and friends of BHS, Breckenridge, Missouri, I hope my article brought some memories back to you,,, THANK YOU,,,KATIE ADAMS,, JANE SHRUM,, JACK MAYBERRY,,ABIE ODELL,,JOYCE PHILLIPS,,JACK HERRINGTON,,MARVIN HICKS,,LARRY BASSETT,,JOHN HENRRY GILGOUR,,JACK BELL,,JUDY STEELE,, MARILYN LECLARE,,MARIE SUTTER,,SARAH CREWS,,CHERYL MARTIN,,MARGARET CASHATT,,AND LEVETA LOONEY for your friendship and allowing me to come into your home today............BILL MATTHES,,,,,,,CLASS OF 1956....GO BULLDOGS::::::::::::::::::::::::::::::::::::::::::::::::::::::
Bill "Toff" Matthes
PSALM 46:10 . . . . 'STAND SILENT AND KNOW THAT I AM GOD'
Freshman Class
Breckenridge School 1952
Thanks to Cheryl Martin Turner of Huntsville, Texas, for sharing this class photo!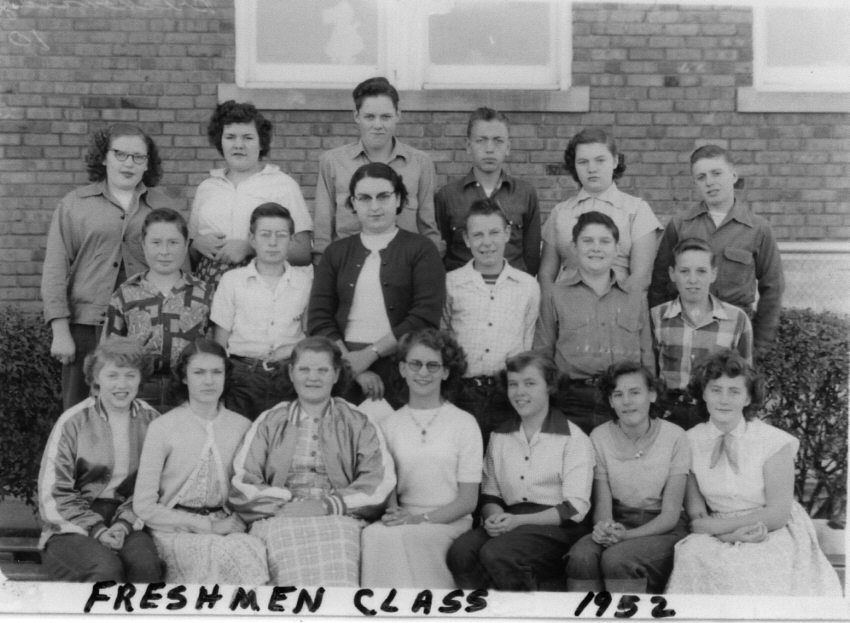 Back Row: Katie Adams, Jane Shrum, Jack Mayberry, Abie Odell, Joyce Phillips, Billy Matthes.

Middle Row: Jack Herrington, Marvin Hicks, teacher, Larry Bassett, John Henry Gilgour, Jackie Bell.

Front Row: Judy Steele, Marilyn LeClare, Marie Suiter, Sarah Crews, Cheryl Martin, Margaret Cashatt, Laveta Looney.