Highland Christian Church
Located in the Highland neighborhood of northwestern Mooresville Township, Livingston County, this church served as a place of worship and a community center for many families in Caldwell, Daviess and Livingston Counties, Missouri
---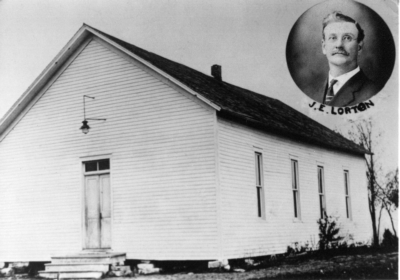 Mrs. Rose Gaunt wrote the following history of the church. It was published October 12, 1956 in The Breckenridge Bulletin.

One of the landmarks of the Highland community is the Highland Christian Church, still in good use with Bible school every Sunday and preaching services two Sunday nights each month, the Rev. Arnett Winn of Chillicothe serving the church.

Highland Church was organized in 1870 and services were held in the Matson school, and in 1875 it was decided to build a church. Aaron Bashford gave the ground near the northwest corner of Mooresville township.

The work was almost all donated. Logs were cut and rafted down the river several miles to a saw mill operated by Jack Dusenberry, where a [wooden] bridge stood at that time. Cottonwood shingles were made by a machine near the saw mill. Work was delayed because of crop failures, so the building was not completed until 1881.

John H. H. Matson and Jeremiah Reynolds were the first elders. The first trustees were Benjamin F. Lutz, Stephen W. Reynolds and Jonas Goodman. The church deed, made out to them, was not recorded until 1890. The superintendent in the early years with the longest record was George Snook who served for 25 years [and never missed a Sunday School session].

The building was torn down about 1999.

---
Members and date of admission to the church:



AULTMAN

Flora, 1889
Rosa, 1894

BARRON

James, 1889

BASHFORD

Maria, 1889
Jennie, 1889
John, 1891
Sam, 1898
Cora, 1898
Oliver
Sylvia, 1905
Clare, 1907
James M., 1889
Aaron, 1889

BELL

Charlie, 1901

BENNETT

Mrs. Sam, 1913
Sam, 1914
Lizzie, 1913
Arthur, 1914
Charley, 1914
Mrs. Charley, 1914
Claude
Mary

BROOKSHIRE

Goldie, 1914
Marion, 1914

BURRY

John, 1901
Mrs. John, 1893

CHRISTIANSEN

Ben, 1918
Mrs. Ben, 1918
Catherine, 1920

COLVIN

Nicholas
Mrs. Nicholas
Virgil
Castella (Stout), about 1870

CROSS

Rhoda, 1899
Mary J.

DEMUTH

Leah

DEVAUL

Ida, 1891
J. W. Jr., 1892

DUNSCOMB

Chester, 1919

FAIR

William, 1899
Elizabeth, 1899
Willie, 1912
William, 1899
Lloyd
Mrs. Lloyd
Dan, 1909
Mrs. Dan

FERIGO

Otis, 1908
Ricby, 1908

FISHER

Richard, 1889
Charlotte, 1889

FLEMING

Cicero, 1907
Inzella, 1907

GALBREATH

Lottie, 1909
Lena, 1909
Arthur, 1909
Mrs. Arthur, 1909

GARLICK

C. F., 1888
G. H., 1888

GANN

Fannie, 1905

GAUNT

Homer, 1901
Mrs. Leonia, 1898
Lettie, 1899
Roy, 1899
Mrs. Roy, 1901
Ada, 1902
E. 1907
Frank, 1909
Mrs. Frank, 1909
Hazel, 1912
Ray, 1912
Gertrude, 1913
Nellie, 1914

GREY

Henry, 1895

GIBBS

Eunice, 1914
Daisy, 1918

GILLISPIE

Mrs. Jessie, 1889
Robert, 1918
Mrs. Robert, 1899

GOODMAN

John
Henry, 1889
W. M., 1889
Lizzie
Martha
Jonas
Mary
Melinda, 1870
Albert, 1909
Bivile, 1914
Joe, 1912
Mrs. Joe, 1916
Tom, 1908
Mrs. Tom, 1909

HAINSWORTH

Charles, 1912

HARGRAVE

B. F., 1889

HERBERT

Edmon, 1904
Mrs. Edmon, 1891
Roy
Mrs. Roy
E. H., 1913
Louise, 1909

HIGGINS

Adda, 1891
George, 1900

HILT

Lafayette (Elder), 1896
Orville, 1899
Claude, 1919
Charles, 1909
Ida, 1901
Louise, 1909

INFIELD

Perry
Mrs. Perry
Lizzie
Jane
Laura
Nathan, 1891
Maud, 1896
C. A., 1899
Mary, 1904
Charley, 1905
Floyd, 1905
Mollie, 1905

JOHNSON

Everett, 1901
Mrs. Mary

JONES

Cathryn, 1891
Addie, 1899

KELLY

Sydna, 1898
Fannie, 1899
Jack, 1899
Nancy, 1901
Syrena, 1901

KENT

Hattie, 1912

KERMANS

Gus, 1890

LEWIS

Mrs. Kittie, 1909

LINGARD

Arthur, 1918
Mrs. Arthur

LUTZ

Ben F.
Mrs. Ben
Martha (Colvin)
Altona, 1889
Mrs. Rebecca
Ruth, 1893
Bessie, 1899

MADDUX

M. W. (Elder), 1896
Mrs. M. W.
Ben, 1912
Lafe, 1909
Ida, 1907
Tracy, 1904
Walter, 1913
Mrs. Walter
Edison, 1913
Waitman
Jesse, 1904

MANN

Nancy, 1899

MAUPIN

W. M., 1898

MAY

Charles (Elder), 1896

McCLURE

Mathias
Threse
Lula
Annie
Dollie
W. M.
Nancy
Davis
Hannah
Hugh, 1889
Stephen, 1889
Lovey, 1890
Julia, 1890
Samuel, 1890
Lettie, 1891
Ollie, 1899
Paul, 1899
Mrs. Paul, 1895
Sarah, 1902
John, 1905
Mary, 1909

McCOLLUM

H. 1898
Thomas, 1901
Lee, 1898

OGAN

Charlie, 1891
Mrs. Charlie, 1909
Earl, 1918
W. M., 1899
Evan
Nannie
Mary
Electa

OLDEM

(Miss), 1918

PETTIE

John, 1914
Marie, 1918

REESER

Harve
Mrs. Harve, 1918

REYNOLDS

Stephen Woolsey
Louisa, 1889
Jennie
Samuel, 1889
Noah Lennox
Madeline
Fanny Alice, 1890
James, 1891
Michael, 1891
Sallie, 1893
Theo, 1904
Nora, 1902
Bliss, 1909
Gilbert, 1909

SHY

John, 1905

SMITH

W. M. 1899
Alice, 1899
W. F., 1899
G. L., 1908
Jessie, 1901
Mrs. Jessie, 1909
Ray, 1918
Mrs. Ray, 1918
Granville, 1918
Mrs. Granville, 1918

SNOOK

Mrs. George
George
Viletta
Harry, 1901
W. M. E., 1901
Harry, 1899
Goldie, 1901
Bryan, 1912
Bland, 1912

TERRILL

Mrs. Tom, 1914
Fred, 1914
William
Eliza

TENNYSON

Harry, 1898

TOMLIN

Mrs. Mary
Susan, 1897

TOWNSEND

Mrs. Levi, 1909
Gladys, 1909
Catherine

TREON

Mary J.
W. M.
Emma
Minnie, 1889
J. O., 1890
Thomas
Manda, 1891
May, 1891
Clem, 1892
Mrs. Clem, 1909
Dellie, 1893
Bertha, 1899
Myrtle, 1899
John, 1899
George, 1899
Lona, 1905
Rankin, 1907
Maggie, 1909
R. I., 1912
Jakie, 1912
Arthur, 1912
Ruby, 1917
Darias, 1873