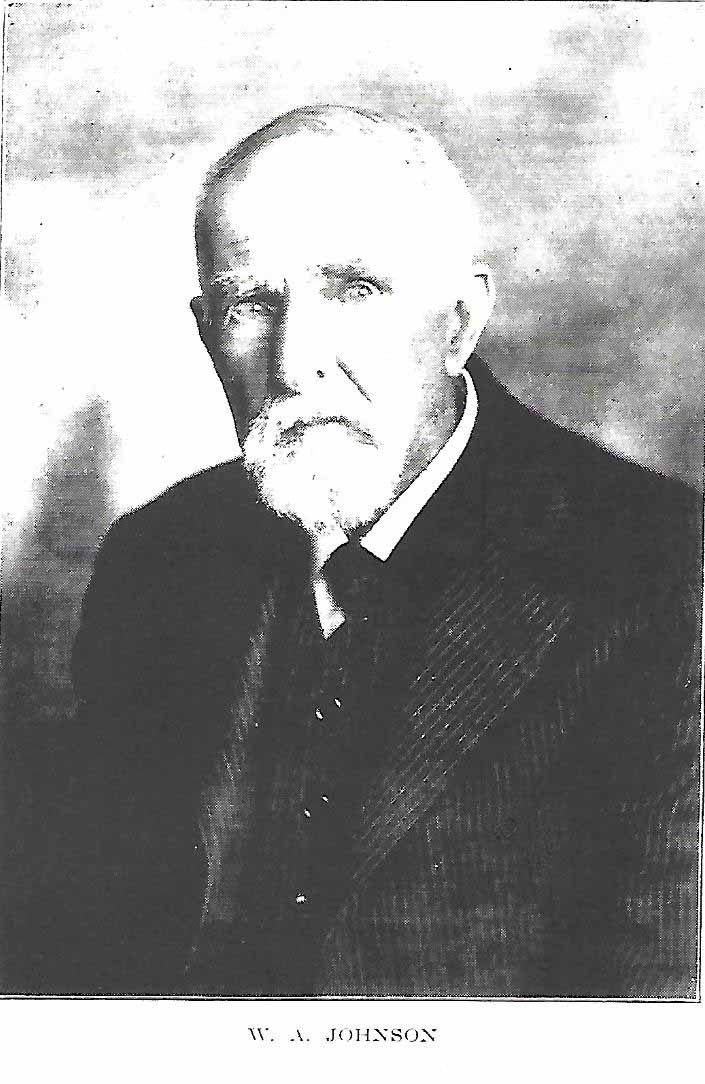 William A. Johnson, a retired farmer and a veteran of the Civil War, is now (1922) living in Union Township, Daviess County, with his son, Phillip M. Johnson.


Mr. Johnson was born on a farm Sept. 5, 1830, in Rappahannock County, Virginia, the son of David and Frances (Huff) Johnson. They were the parents of nine children, two of whom survided to 1922: W. A., the subject of this sketch; and E. M., Paola, Kansas.


David Johnson was born in Virginia in 1806. He carried on general farming during his life, removing to Daviess County in 1858 where he located on a farm now owned by his grandson, Phillip Johnson. His wife, Frances (Huff) Johnson, was also born in Virginia in 1806. She died in 1894 and her husband died in 1887 in Daviess County. They are both buried in the Johnson Cemetery in Union Township., which was owned by David Johnson.


W. A. Johnson removed to Daviess County two years before his parents made the trip. He drove from Green County, Ohio, to Missouri. Upon his arrival there he erected a log cabin on heavy timber land, which he cut and cleared himself. Hamilton, Missouri was the first railroad trading post in that section when Mr. Johnson came to Missouri. He located on a farm in Grand River Township, Daviess County, and five years later moved to Union Township. During the Civil War, Mr. Johnson served for eight months.


Ocr. 7, 1851, Mr. Johnson was married in Virginia to Mary Yates, who was born in 1820. She died in 1888. To this union seven children were born, one of whom died in infancy. The others are as follows: James W., Gilman City; Phillip M., Union Township; Garrette, Gallatin; David G., California; Lucy, deceased; Belle, the wife of Lewis Hitchcock, Washington. Phillip M. Johnson was married in 1882 to Lucy Cornell, a native of Worth County. Four children have been born to this union as follows: Charles L., Union Township; Virgil P., Grand River Township; George W., Jameson banker; Mary, the wife of Marion Pags, Monroe Township.


W. A. Johnson has been retired for a number of years, but is still very active. He thinks nothing of walking five miles a day, and derives great pleasure from fishing. In politics Mr. Johnson is a Democrat and he is a member of the Methodist Church. To men such as Mr. Johnson we today owe much. They braved the dangers of frontier life and, by their work, made possible the industrial and civic growth that have built up Daviess County.


SOURCE: History of Daviess and Gentry Counties, Missouri (1922)